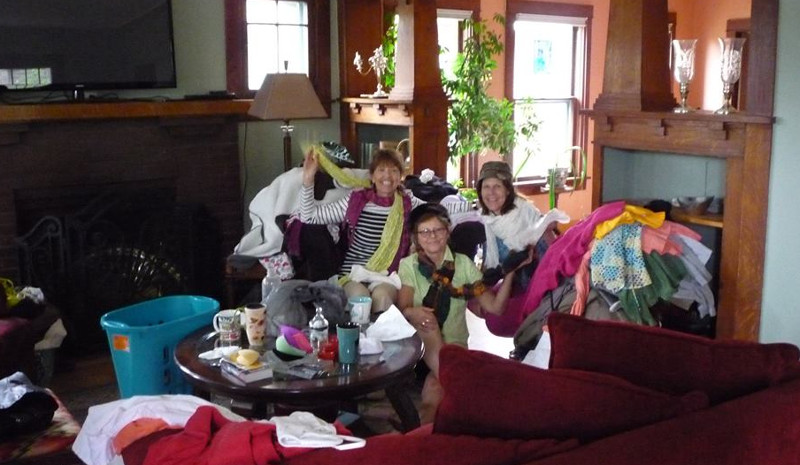 In her book, The Life-Changing Magic of Tidying Up: The Japanese Art of Decluttering and Organizing, Marie Kondo has a system for how to organize your entire home. Her principles helped me discern and declutter many areas of my life in addition to my physical environment. Here are 5 of my favorites:
1. Discard first, then organize. Our biannual clothes trade(above) is the catalyst to help me pass on my clothing discards to dear friends, Dress for Success, and the Malala Foundation. Commitments can be a little more difficult to discard, so when in doubt, say no first and then organize your day according to what is most important to you.
2. Discard by category not location. If you try to clean up everything in your life all at once you will likely experience overwhelm, confusion, and rebound. Pick ONE area of your life to clean up and your health is a great place to start. Learn how to eat clean and healthy and feel great with the Conscious Cleanse. This plan has been life-changing for me.
3. Discard everything that does not spark joy. This not only includes the expensive jacket that never did fit well, but also the so-called friend who brings you down every time you see her and an annual social gathering you suffer through every year.
4. We hang on to something because we have an attachment to the past, or anxiety about the future. Barbara Hemphill saysclutter is postponed decisions. This not only pertains to keeping old photographs, but also staying in the same job, living in the same neighborhood and eating at the same restaurant, even if they no longer serve you.
5. Identify what is truly precious. Art Buchwald said, the best things in life are not things and even though we know this is true, sometimes we forget. Clean up your relationships and choose to connect in special ways with a handwritten note, phone call, or invitation to the most precious people in your life.
Marie says the magic of tidying dramatically transforms your life and I have found this to be true. Follow these principles and see if you feel more free, clear, and grateful when you clean it up.