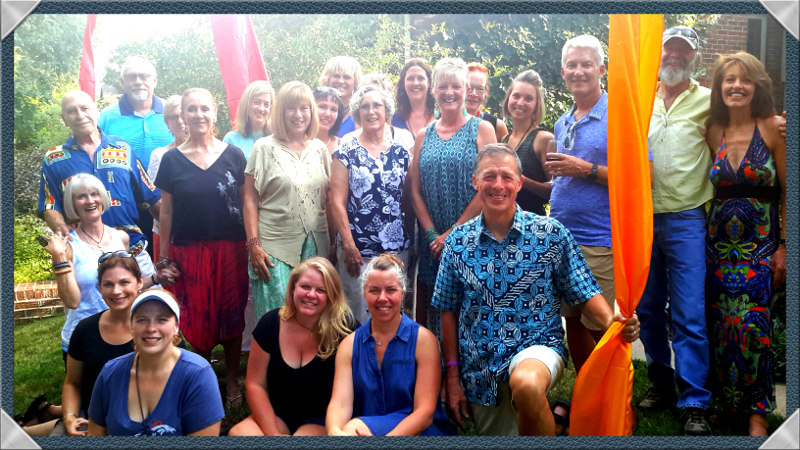 Last weekend we hosted our post-Bali Retreat party 3 months after our trip. It was great to catch up with everyone and hear about their past adventures and future ones. Everyone looked fabulous, healthy, and happy, as you can see for yourself!
The intrigue of a yoga retreat in Bali initially brought us all together and practicing twice a day, navigating a third world country, and adventures in biking, hiking, river rafting, and temple visits helped us create special bonds. We are now a tribe who shared a unique experience we will never forget.
Many members of the Bali tribe have traveled with me to multiple retreats in the Colorado mountains and Costa Rica because it's so special to share community and feel a sense of belonging with people who have similar interests. In their new book, Fearless After Fifty, my teacher Desiree Rumbaugh and Michelle Marchildon devote a chapter to connection and community because the National Institute of Health states "social disconnectedness" is one of the fastest-growing trends for our aging population.
Connection is a critical resilience skill because we all need to feel like we are part of something bigger, to seek not only companionship but support and comfort from our tribe. It's important to share a common goal, interest, mission, or adventure with like-minded people, whether in a yoga community, neighborhood cause, professional association, or activity club.
Here are some ideas to find your tribe(s):
Attend a retreat
Volunteer for a personal or professional cause you believe in
Go to a new church, meditation center, or yoga studio
Join an outdoor adventure or book club
Reach out to someone you find interesting
Whatever you decide to do, get involved and commit to your tribe, and know you may have to try a few to find the right one for you. That's how we stay interested and interesting, while we learn, grow, and build our resilience!