Nurse Leaders Connect, Engage and Grow at AONL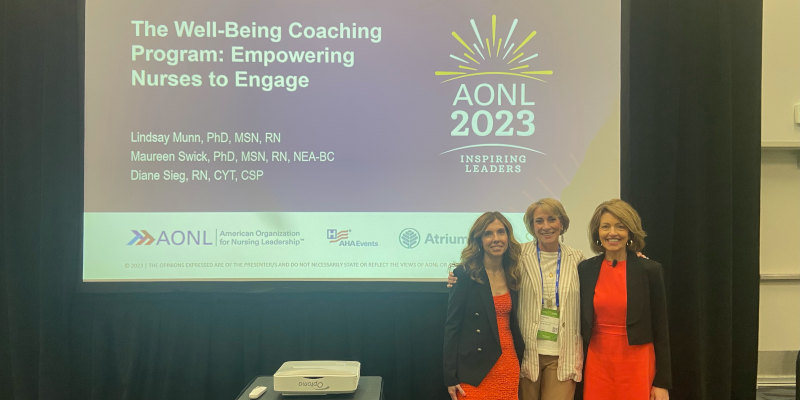 I came home from this year's AONL conference feeling encouraged, optimistic and excited because of all I experienced. The theme was Inspiring Leaders: Connect. Engage. Grow. and AONL did a beautiful job of infusing the theme throughout the four-day Conference. The Nurse Leaders I met at presentations, receptions and in the hallways also embraced it fully with their enthusiasm to connect and engage.
I was honored to present, The Well-Being Coaching Program: Empowering Nurses to Engage with former Chief Nurse Executive Maureen Swick and Nurse Researcher Lindsay Munn. This is the project I have been immersed in for the last 18 months and I was thrilled it was so well received. Many leaders rushed up to me right after the presentation and throughout the conference to say, "I really like your approach to well-being and want to bring it to my nurses. Let's talk".
Here are 3 other reasons I came home so excited:
Connect
The opening keynote, given by Grammy nominated singer, rapper, and poet, Sekou Andrews, reminded us that Nurse Leaders are in the inspiration business, and it starts by inspiring ourselves. He connected with us using story with his high energy and award winning poetry, leaving us feeling seen, heard, and understood.
Engage
The conference was so engaging because all of the presenters–from keynotes to podium and poster sessions were passionate about their topic, whether it was nursing salons, chatbots, executive turnover, or cultivating joy in work. This engaged the audiences to share their experiences and ask great questions.
Grow
Every Nurse Leader I met was forward-thinking and excited about moving on (from you know what) to work through the current challenges in our nursing profession with innovation and creativity. They shared a number of initiatives they were prioritizing including research, diversity, and the subject nearest to my own heart: workforce well-being.
Learning how to connect, engage and grow is the foundation of The Well-Being Coaching Program because it empowers nurses to feel good about themselves and what they do every day. This is the definition of Well-Being. I came home inspired after witnessing so many Nurse Leaders modeling this at the conference and in their organizations.