Living with Resilience: Flying Lessons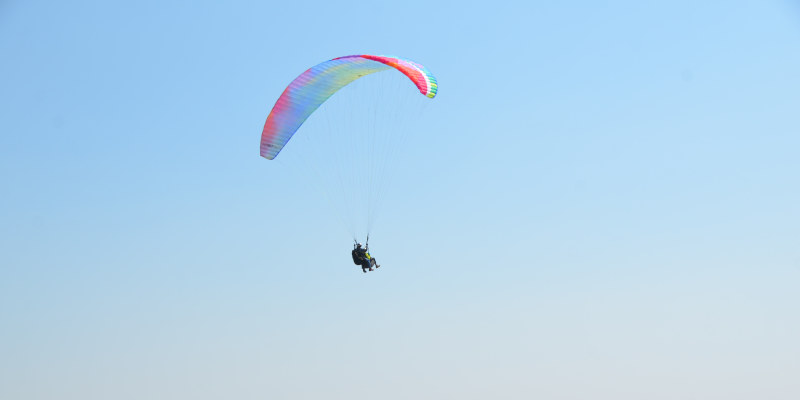 I was drawn to paragliding for years so when Tim, a good friend and experienced pilot, offered to take me, I said yes immediately. I'm really not a daredevil, but there was something about the freedom of being in the air, above all the noise and chaos that really attracted me.
As we stood on the side of the mountain waiting for the wind to be just right for takeoff, I felt unsettled. It wasn't the before the dentist kind of dread, but the uneasy and excited feeling of waiting in line for the biggest roller coaster of your life. After what felt like an hour, but probably just minutes, Tim asked, "Are you ready?" His previous instruction for me was to shout, "Hell Yes!" But instead, I asked, "Can we practice take-off one more time?" He replied, "Nope. Are you ready?" I responded with a very soft "yes". I took one step and we were flying.
As soon as we were airborne, my anxiety and fear completely disappeared. I felt held and supported and free and boundless and big and small and unencumbered all at the same time. I could not stop smiling as we made turns and rode the thermals. It was a surreal, spaceless, and timeless experience, and I had no idea (or inclination to care) if we were flying for 4 minutes or 4 hours.
After we landed, I felt like a part of me was still up there and could not process all that had just happened. I was giddy, like a little kid, and "Wow" was all I could say. "Wow. That was really something. Wow. I can't believe I did that. Wow. It was amazing. Wow. I loved it. Wow. I'm exhausted!"
Flying was something I chose to do just for myself, with no agenda, expectation, or attachment. I did it for the sole purpose of experiencing something new that I was drawn to with curiosity and excitement. It was a gift I gave myself, and I will be forever grateful for this unforgettable experience.
I was reminded of one of my favorite books, Jonathan Livingston Seagull where Richard Bach writes we can be bold, adventurous, and free and "learn to fly" metaphorically in our spirits, by remembering our purpose and meaning in life. Instead of the mundane routine we create for ourselves, we can lift ourselves out of the fear, boredom, and stories that keep us stuck.
This is an inspiring summation of why we practice resilience. Fortunately, you don't have to fly to get the lessons because the resilience you practice on the ground is the most important. What could you learn or experience new, to lift yourself out of fear, boredom, or the stories that are keeping you stuck?