Presence with a Rattlesnake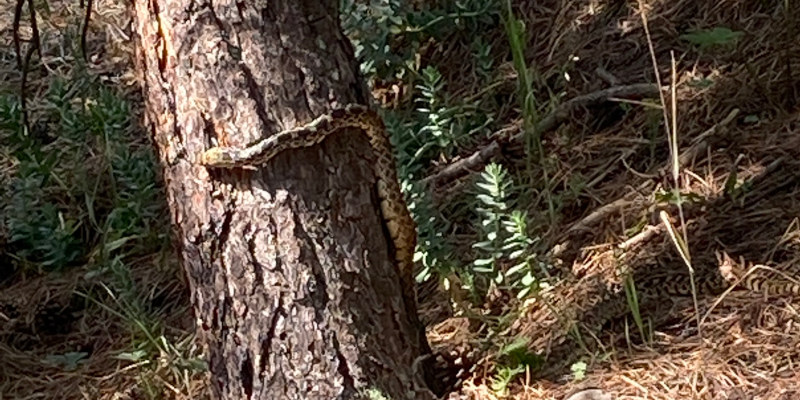 Every Friday morning, I practice my recovery with a solo hike up Gregory Canyon in Boulder, Colorado. A couple of weeks ago, I was ¾ of the way down, completely lost in my thoughts, when a runner passed me going up yelled, There's a rattlesnake on the trail ¼ of a mile down!
That announcement certainly got my attention and jolted me back into the present moment. I immediately changed my brisk-paced hike into a more slow and intentional one. I also grabbed a stick and cautiously proceeded down the trail, armed and ready for a possible encounter.
After what I calculated to be a ¼ mile, I relaxed (a little), deciding the snake must have gone back into the woods. A little further down the trail, I saw two men intensely studying a tree. Is that the rattlesnake? I asked. Sure is and it's very rare to see them climb trees like this, one replied.
I was very grateful to the rattlesnake for being in the tree instead of on the trail because it was MUCH bigger than I imagined. I was also grateful to it for helping me realize how deeply distracted I was on my hike with my busy mind. The snake reminded me why I was there, to connect with nature and myself and that requires presence.
Do you ever find yourself distracted, even when you are doing something you love, as I did? Presence, being aware of your experience in the moment, requires us to:
Slow down so that you don't miss the moment.
Let go of thoughts that take you into the past or future to be right here, right now.
Do one thing at a time to really experience the one thing.
Being outside and exploring nature is a great way to connect with yourself. But if you aren't present to your experience, you could miss the whole point of it, along with the views, the wildflowers, and even a rattlesnake!