My Compassionate Reminder in the ER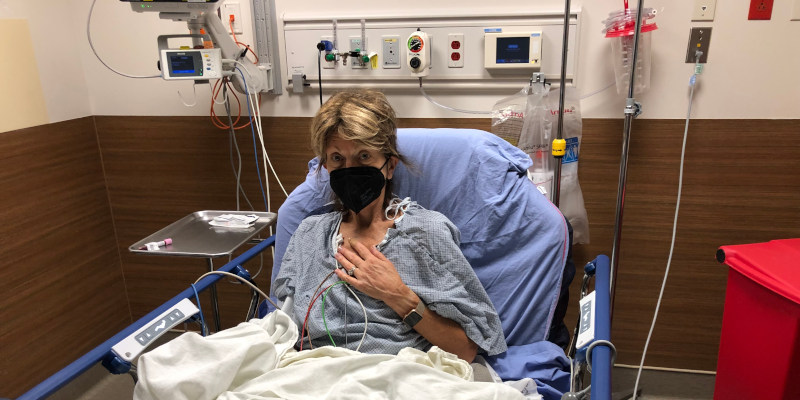 I never imagined I would end up in the ER on my beach vacation. I am healthy, active, without risk factors, and if you work in healthcare, you know it takes a lot for any of us to admit we need help. But after experiencing mild chest pain all afternoon that increased to a pain level of 7 by evening, I reluctantly told my husband I needed to go to the hospital.
I share this experience not to vent or repeat the obvious. We already know how challenging, overwhelming, and downright cruel working in healthcare can be right now. I share it because I was reminded of the one thing we all need most today, in healthcare, and everywhere else—Compassion.
I was anxious and shaking uncontrollably when my husband wheeled me into the ER that Friday night. I told the triage nurse how I felt and without even making eye contact, she complained about day shift and the mess they left her with. While taking my EKG she grumbled, "Be still!" and afterward "Normal sinus rhythm!" with obvious annoyance. She wheeled me back to the waiting room sharing her own cardiac history, still not asking me about mine. She was obviously having a bad day, but I was having a pretty bad day myself and was near tears when they took me back for a cardiac work-up.
Everyone else I saw in the ER was kind and attentive. But what do you think I remember? I remember the first person I came in contact with, who maybe was feeling sick, sleep-deprived, or completely stressed-out herself. I will never know. I do know her dismissive behavior did not demonstrate any compassion.
Compassion is the first CPR practice of Self-Leadership for good reason. To be kind to others, we first have to be kind to ourselves. We also have to take complete responsibility for how we choose to show up, no matter what day shift or anyone else does or doesn't do. I believe the triage nurse was not practicing compassion with herself so she couldn't practice it with me.
Compassion is critical to every human interaction we have, especially in healthcare because people don't remember what you say, they remember how you made them feel. Compassion creates feelings of confidence, calm, and comfort, not only for the receiver but for the giver as well. It helps us connect to the meaning and purpose of our work and remember it is a calling and not just a job.
I never saw that triage nurse again, but if I had, I hope I would practice compassion and tell her how sorry I was she was having such a bad night and even ask her why. That would have helped me feel better and maybe it would have helped her too. Having compassion for ourselves is the only way we can have it for someone else.
Fortunately, my cardiac enzymes and exercise stress test were normal and I was discharged in less than 24 hours. This experience was a scary and inconvenient interruption to my vacation, but it gave me a great reminder of the importance of practicing compassion.
How can you practice compassion and treat yourself a little kinder today?